Another Satisfied Client Of a Complete HVAC New Armstrong Furnace and AC In Battle Creek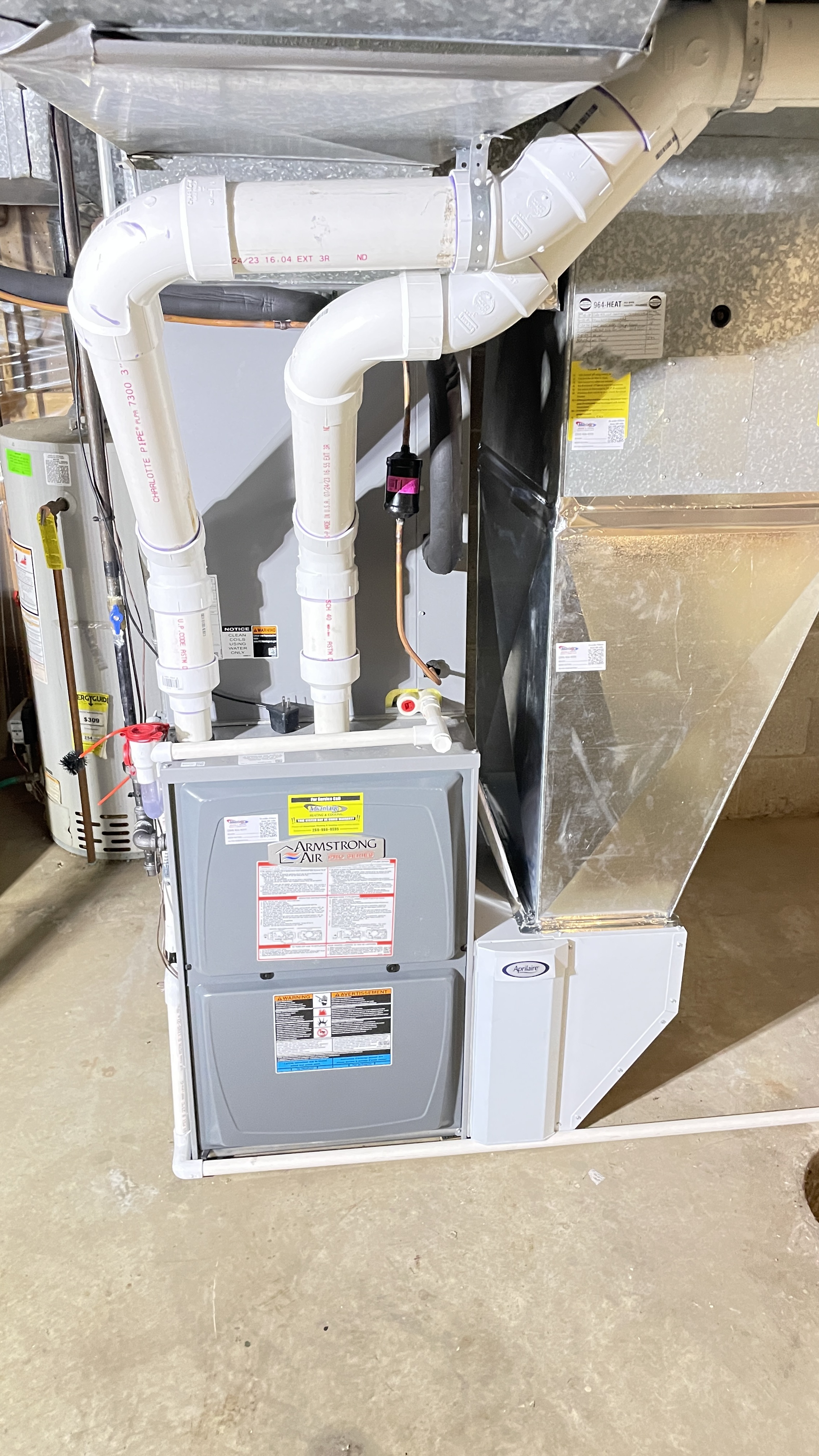 The project involved the comprehensive replacement of the entire HVAC (Heating, Ventilation, and Air Conditioning) system in a residential property in Battle Creek. This upgrade encompassed the primary service of replacing the furnace and central air conditioning unit while integrating an Aprilaire Indoor Air Quality (IAQ) system to enhance the home's overall comfort and air quality. We were able to accommodate before the Big Heatwave that we were expecting.
Project Scope:
Furnace Replacement: The existing furnace was replaced with a new, high-efficiency unit. This modern furnace Armstrong A96US2V090 was selected for its energy-efficient features, which would improve heating performance and contribute to reduced energy consumption and lower utility bills.
AC Replacement: A new, state-of-the-art unit replaced the old central air conditioning system. The new central air system was chosen for its advanced cooling capabilities, energy efficiency, and compatibility with the home's size and layout.
Aprilaire IAQ Integration: An Aprilaire Indoor Air Quality (IAQ) system was integrated into the HVAC setup as a significant enhancement to indoor air quality. This IAQ system included components like air cleaners, humidifiers, and ventilation control to ensure that the air circulating within the home is clean, properly humidified, and well-ventilated—this addition aimed to create a healthier and more comfortable living environment.
Ductwork Inspection and Optimization: The project also involved thoroughly inspecting the existing ductwork. Any necessary repairs or modifications were made to ensure that the new HVAC system operated efficiently and distributed conditioned air evenly throughout the house.
Thermostat Upgrade: A modern programmable thermostat was installed to provide precise control over the indoor climate. This allowed for scheduled temperature adjustments, optimizing energy use and comfort.
Testing and Commissioning: After the installation, the entire system was rigorously tested and fine-tuned to ensure it operated at peak efficiency and met the desired temperature and air quality requirements.
Maintenance and Warranty: The project discussed routine maintenance requirements and the warranty details for the new HVAC system. Proper care would be essential to maximize the system's lifespan and efficiency.
Completion and Benefits:
Upon completion of the project, the homeowners could enjoy several significant benefits, including:
Improved Energy Efficiency: The new furnace and central air conditioning units were selected for their energy-efficient features, reducing energy consumption and lowering utility costs.
Enhanced Comfort: With a modern thermostat, even temperature distribution, and the Aprilaire IAQ system, the home's indoor comfort was significantly improved.
Healthier Air Quality: The integration of the Aprilaire IAQ system ensured that the air within the home was free from pollutants and properly humidified, contributing to better respiratory health.
Reliability: The new HVAC system was expected to provide reliable heating and cooling for years, backed by manufacturer warranties and regular maintenance.
In conclusion, this project involved replacing the entire HVAC system, including the furnace and central air conditioning, and integrating an Aprilaire IAQ system. The focus was on improving energy efficiency, indoor comfort, and air quality in a residential property in Battle Creek.
Budget: 10K
Location: Battle Creek, MI
Project Image Gallery
Products Used
Armstrong A96US2V090, Armstrong 4SCU16LE142, AprilAire Model 1610 Whole-House Air Purifier
Client Review
We bought an entire HVAC system from Chris. He is very knowledgeable and professional. He did an excellent job, fit us in before an upcoming heatwave, and left everything cleaner than how he found it. And his pricing was the best in town. His son was working with him, and it's clear that he is teaching him to be very capable with the technical side of the business as well as stellar customer service. I am glad he will take care of our system for many years. Don't Hesitate, Schedule Your Battle Creek Heating Repair Services Now!