You Can Count On Us For Expert AC Repairs That Will Help Get Your Air Conditioning Back Up And Running Again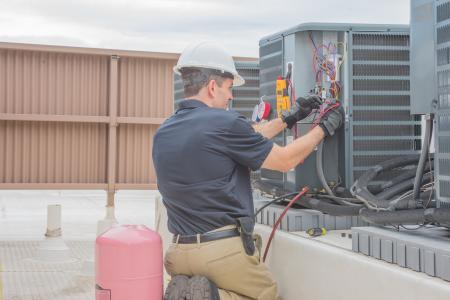 No matter the reason your Battle Creek home is in need of professional AC repairs, you can always count on the team here at Advantage Heating & Cooling LLC to deliver incredible results at an affordable price. Whether your unit is malfunctioning due to poor maintenance or other unforeseen circumstances, we'll always work our absolute hardest to get it back up and running again in no time at all. And as the number one AC company for Battle Creek and the surrounding communities, you can rest easy knowing that your home is in good hands when you choose to work with us!
Fixing Common Air Conditioning Problems
When it comes to reliable AC repairs, it's always best to go with a pro for your Battle Creek home. One of the best things about do-it-yourself repairs is the sense of pride and satisfaction you get from taking on a tough job yourself. One of the worst things about it, however, is finding out that your air conditioning unit is now in even worse condition than it was when you started. Working with a pro ensures the best results, and we're always here to help. Whether you need assistance with poor drainage, refrigerant leaks, or something else entirely, we've got the skill and expertise to get the job done right!
Looking for help preventing common air conditioning problems from occurring in the first place? We've got you and your Battle Creek home covered with our professional AC maintenance service!
Why It's Important To Stay On Top Of AC Repairs As The Need For Them Arises
While proper maintenance can help prevent the need for AC repairs, sometimes things happen that are out of our control. When the need for repairs arises, acting quickly can help save you time, money, and hassle in the long run—not to mention the fact that the sooner you call on our team for help, the sooner your home will be cool and comfortable again. Working with a professional contractor will ensure excellent results that keep your unit in mint condition all year round, so be sure to give us a call today!
Here are a few more reasons why you should act quickly when it comes to AC repairs:
Swift action can make all the difference between needing a repair or total replacement
Addressing problems as they arise can prevent more serious damage from occurring
Promptly fixing your unit can improve efficiency and reduce energy costs Don't Hesitate, Schedule Your Battle Creek Heating Repair Services Now!