About Advantage Heating & Cooling LLC: A Highly Skilled HVAC Contractor With 30 Years Of Experience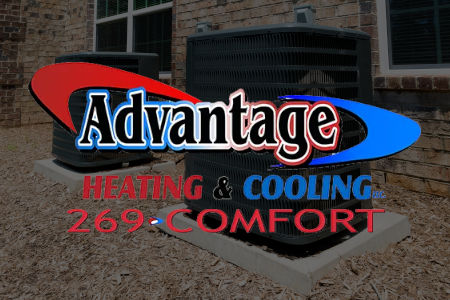 The team here at Advantage Heating & Cooling LLC has over 30 years of experience in the heating and cooling industry, so if you want to work with an HVAC contractor who will take the utmost care of your Battle Creek home, you're in the right place. All of our technicians are incredibly skilled at what they do, and we place as much value on a job well done as we do friendly and professional communication. We always make sure to provide a top-of-the-line customer experience from beginning to end, and you can rest easy knowing that your home is in the best of hands when you choose to work with us!
If you're in need of an expert HVAC contractor to help you with repairs, replacements, and so much more, be sure to give us a call at 269-966-9595 or fill out our convenient online request form today. We're proud to be the number one heating contractor in Battle Creek and the surrounding communities, and we'd love a chance to work with you and your property!
Our Complete Selection Of HVAC Services
So why should you choose Advantage Heating & Cooling LLC as your go-to heating contractor for all things HVAC?
Our team not only provides the absolute highest quality services in the industry, but we also make sure to take great care of your home in the process. When working indoors, our technicians cover the floor with a drop cloth or wear protective gear, and we always thoroughly clean up the area before we leave. After all, we know just how important your home is to you and your family, and we'll always treat it with the same respect we'd treat our own!
Interested in working with an experienced HVAC contractor for your Battle Creek home? Here are all the ways we can assist you and your residential property:
AC maintenance
AC repairs
AC replacement
Dehumidifiers
Furnace repairs
Heat pump repairs
Heating maintenance
Humidifiers
UV lights
Water heaters
Where You Can Find Us
In order to reach as many homes as possible with our expertise, we provide our top-notch services to several towns and cities located throughout Southern Michigan. If your area is on the list down below, then we can get started right away on helping you with all your heating and cooling needs. If you don't see your location but you'd still like to work with us, give us a call today and we'll see what we can do for you!
Need an HVAC contractor in any of the following locations? Here's where you can find us:
Athens, MI
Augusta, MI
Barry County, MI
Battle Creek, MI
Ceresco, MI
Climax, MI
Comstock Township, MI
Leroy Township, MI
Marshall, MI 
Springfield, MI Don't Hesitate, Schedule Your Battle Creek Heating Repair Services Now!