Want To Work With Battle Creek's Pro Heating Contractor? Advantage Heating & Cooling LLC Has Got You Covered!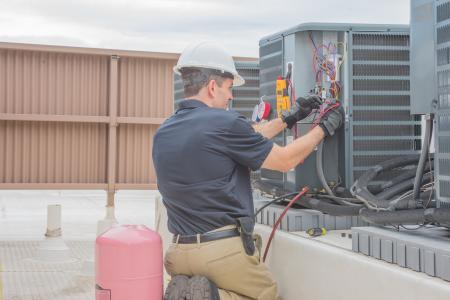 If you're in search of a professional heating contractor you can trust to provide expert repairs, replacements, and ongoing maintenance for your Battle Creek home, then the team here at Advantage Heating & Cooling LLC is here for you and your property every step of the way. We work hard to provide an excellent customer experience for each and every job we take on, and you can always count on us for quality because we have over thirty years of experience in the industry. Our team of technicians is friendly, knowledgeable, and always ready to lend a helping hand whenever you need it the most.
For expert HVAC services at a competitive price point, you simply can't go wrong when you choose to work with us. Give us a call at 269-966-9595 today and we'll get straight down to business on addressing all the heating and cooling needs of your Battle Creek home!
The Finest Heating Repairs And More For Battle Creek Properties
Is your Battle Creek property in need of high-quality heating repairs? Or perhaps you're looking for help with installing brand new UV lights for your HVAC system in order to keep your indoor air safe, clean, and overall healthy? No matter what your needs may be, we've definitely got you and your home covered with our wide selection of expert heating and cooling services. Take a look at the list down below to see everything we can do for you, and for more specific inquiries, feel free to get in touch with us today!
If you're in the market for a heating contractor to perform any of the following services for your Battle Creek home, we're always right here and ready to help:
AC maintenance
AC repairs
AC replacement
Furnace repairs
Heat pump repairs
Heating maintenance
Heating repairs
Humidifiers
UV lights
Water heaters
Expert AC Maintenance For Homes In And Around The Battle Creek Area
Our top-of-the-line AC maintenance service is the perfect preventative measure to keep the need for repairs or replacements to a minimum. When you choose us to regularly inspect and tune-up your unit, you can rest easy knowing that you'll have cool air available to you at a moment's notice. And routine maintenance is one of the easiest ways to save money over time by ensuring that your entire system is working flawlessly!
Not in Battle Creek? You can also find us here:
Athens, MI
Augusta, MI
Barry County, MI
Battle Creek, MI
Ceresco, MI
Climax, MI
Comstock Township, MI
Leroy Township, MI
Marshall, MI 
Springfield, MI Don't Hesitate, Schedule Your Battle Creek Heating Repair Services Now!