Advantage Heating & Cooling LLC: An Expert Heating Contractor Serving Marshall And The Nearby Communities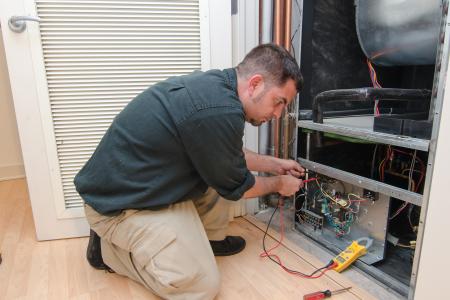 Advantage Heating & Cooling LLC is proud to be the absolute finest heating contractor serving residential properties in the Marshall area and beyond, and our team would love an opportunity to help you and your home with all your heating and cooling needs. Our technicians provide the highest quality work in the business, and with our 30 years of experience, you can always trust us to take amazing care of your property. We've got you covered with a wide range of professional HVAC services that are sure to meet your needs, so give us a call or fill out our online service request form today to learn more about what we can do for you!
Alongside the immediate Marshall area, we also offer our expertise to residential properties in several towns and cities located throughout Southern Michigan. Check out the list down below to see where we currently operate, and if you live nearby but don't see your town on the list, feel free to get in touch with us today by giving us a call at 269-966-9595. We'll see if there's anything we can do to help!
Here's our current complete service area:
Athens, MI
Augusta, MI
Barry County, MI
Battle Creek, MI
Ceresco, MI
Climax, MI
Comstock Township, MI
Leroy Township, MI
Marshall, MI 
Springfield, MI
We Can Help Keep Your Marshall Home Comfortable With High-Quality Heating Repairs And So Much More
Is your Marshall home in need of a few heating repairs? Or perhaps your AC unit has finally reached its last legs and you're looking for professional AC replacement? Whatever challenge you can throw our way, the team here at Advantage Heating & Cooling LLC is always up to the task. Our selection of unbeatable services is sure to have something for just about everyone, and we offer it all at a competitive price point that fits nearly any home improvement budget.
If you're in the market for a heating contractor to assist you and your Marshall home with any of the following services, Advantage Heating & Cooling LLC can help:
AC maintenance
AC repairs
AC replacement
Dehumidifiers
Furnace repairs
Heat pump repairs
Heating maintenance
Heating repairs
UV lights
Water heaters
Why Professional AC Maintenance Is So Important For Your Marshall Property
Have you ever gone to turn on the AC on a hot summer day and found that it's not working correctly—or at all? Even if you haven't experienced that yet, it's likely you don't want to. One of the best ways to keep your air conditioning unit in perfect working order is through routine AC maintenance, and our service is the best in the business. We'll make sure you have cool air when you need it the most! Don't Hesitate, Schedule Your Battle Creek Heating Repair Services Now!